TO ORDER: Plants can be ordered by email at info@tworoadsfarm.ca. Orders will be filled in the order they are received. You will receive an email confirming your order and to arrange pick up.
We have tomatoes, basil, hot peppers, sweet peppers and eggplants. Please see below for available varieties and descriptions.
Tomato plants are $4.50; peppers and eggplants are $4. Basil is $3.50. Payments can be made by cash or interac, or with a Two Roads Farm Market Card.
Plants are in ~4″ pots and are greenhouse-grown. They are used to unheated nights, but will need to be hardened off for outdoor planting.
PICK UP: After we have confirmed a pick up day over email, you can drop by the farm and pick up your plants off our honour order pick-up table, located outside the cabin (our almost-farmstand) located at the front of the farm.
TOMATO VARIETIES AVAILABLE:
New Girl – Indeterminate, salad, organic F1
From Johnny's Seeds: First early, great flavor. Fruits avg. 4–6 oz. and have better flavor and are more disease resistant than Early Girl. Widely adapted. High resistance to fusarium wilt races 1, 2 and verticillium wilt. Indeterminate. USDA Certified Organic.
At Two Roads Farm, a heavy producer that has produced well into the fall.
Granadero – Indeterminate, roma, F1 organic
From Johnny's Seeds: Produces very high yields of uniform, attractive, bright red, 4-5 oz. tomatoes with very good flavor. Thick-walled fruit; ideal for fresh tomato sauces, salsas, and salads. Broad disease resistance package keeps Granadero healthy even under heavy disease pressure. High resistance to Fusarium wilt races 1, 2, powdery mildew, tobacco mosaic virus, Verticillium wilt; and intermediate resistance to nematodes and tomato spotted wilt virus. Low susceptibility to blossom end rot.
A star producer at Two Roads the past two seasons.
Giant – Indeterminate, beefsteak, F1
From Osborne Seeds: A large tomato that tastes delicious even when the summer is cool. This tomato serves up a dark red interior that is juicy and meaty with low acid. A compact vine sets lots of jumbo early fruit that were quick to mature, and outweighed Big Beef.
Marsalato – Indeterminate, heritage beefsteak, F1 organic
From Osborne Seeds: A beautiful hybrid Marmande-type tomato with rich flavor and extensive disease resistance! It has been one of the first full size tomatoes to ripen. Excellent yields of medium sized, deeply ruffled, deep red fruit. Best when harvested with slightly green shoulders. Drier, meatier flesh is good for cooking and especially stuffing.
Marbonne – Indeterminate, Heritage beefsteak, F1
Very limited quantities available.
From Johnny's Seeds: Marbonne is a hybrid version of the long popular French heirloom Marmande, but with improved disease resistance and vigor. Beautiful, deep red, ribbed tomatoes are borne on healthy plants. Flavor is among the best with smooth, soft texture. High yields of 7-9 oz. fruit.
One of our heritage beefsteaks at Two Roads the past two seasons. Excellent texture and flavour.
Solar Flare – Indeterminate, Heritage slicer, OP
From Osborne Seeds: Consistently eye-catching, this variety produces beautiful red and gold striped tomatoes that are meaty and sweet. Bred by Brad Gates of Wild Boar Farms, this tomato has shown intermediate resistance to scab and will pair nicely at the market with all of our other specialty tomatoes.
Pink Berkley Tie Dye – Indeterminate, Heritage beef, organic
One left.
From Johnny's Seeds: Unique appearance with heirloom-quality flavor. 8-12 oz. fruits are dark pink with green striping, and the flesh is pink with yellow streaks. The flavor is outstanding – sweet and complex like the finest heirlooms. The compact, indeterminate plants performed much better than average under disease pressure in our Albion, Maine trials.
We grew this two seasons ago at Two Roads and were blown away by its flavour and colour.
Suncherry – Indeterminate, cherry, F1
From Osborne Seeds: A beautiful, fire-engine red cherry with consistent size throughout the season. Easy to harvest with long clusters on a vigorous vine. These shiny fruit go very well mixed with the rest of the Sun Series. Super sweet and aromatic, this variety won our grower taste test poll hands down.
Sungold – Indeterminate, cherry, F1
From Johnny's Seeds: Intense fruity flavor. Exceptionally sweet, bright tangerine-orange cherry tomatoes leave everyone begging for more. Vigorous plants start yielding early and bear right through the season. Tendency to split precludes shipping, making these an exclusively fresh-market treat. The taste can't be beat. 15-20 gm. fruits. High resistance to fusarium wilt and tobacco mosaic virus. 
This is one of our favourite tomatoes for flavour at Two Roads Farm. Prone to cracking in the fall.
Sakura – Indeterminate, cherry, F1 organic
From Johnny's Seeds: Real sweet tomato flavor and firmness without being hard. Among the first to ripen, Sakura keeps going all season long because of its disease resistance. Very tidy, compact plant fits well in tight spaces. Prolific yielder of bright red, shiny, medium-large cherry tomatoes that average 20–22 gm. High resistance to fusarium wilt, leaf mold, and tobacco mosaic virus; and intermediate resistance to nematodes.
This will be our fourth season growing this tomato at Two Roads. It is an outstanding, highly productive cherry.
Red Torch – Indeterminate, Saladette, F1
From Johnny's Seeds: A delicious, small saladette in the Juliet size class. Fruits avg. 1 1/2 oz. and are a beautiful shade of red with yellow stripes. This prolific early producer is crack-resistant and performs well even under heavy disease pressure. AAS winner.
Blush – Indeterminate, Saladette, Organic F1
Three plants left.
From Johnny's Seeds: Sweet, fruity flavor has universal appeal. Beautiful, bright yellow snacking tomato. Red stripes appear as blossom-end red marbling develops. Strong plants tolerate tough conditions. 25-30 gm. fruits. 
We grew these at Two Roads three seasons ago, and loved their colour and flavour.
Galahad – Determinate, Beefsteak, organic F1
One left.
From Johnny's Seeds: Galahad beats industry comparisons with its fantastic flavor and impressive disease resistance profile, which extends much-needed protection to regions ranging from the Midwest to the Deep South. Excellent late blight resistance and early maturity also make Galahad a strong contender in the North. The round, 7–12 oz. fruits can be harvested with green shoulders and ripened red in storage, or ripened on the vine. Vigorous plants.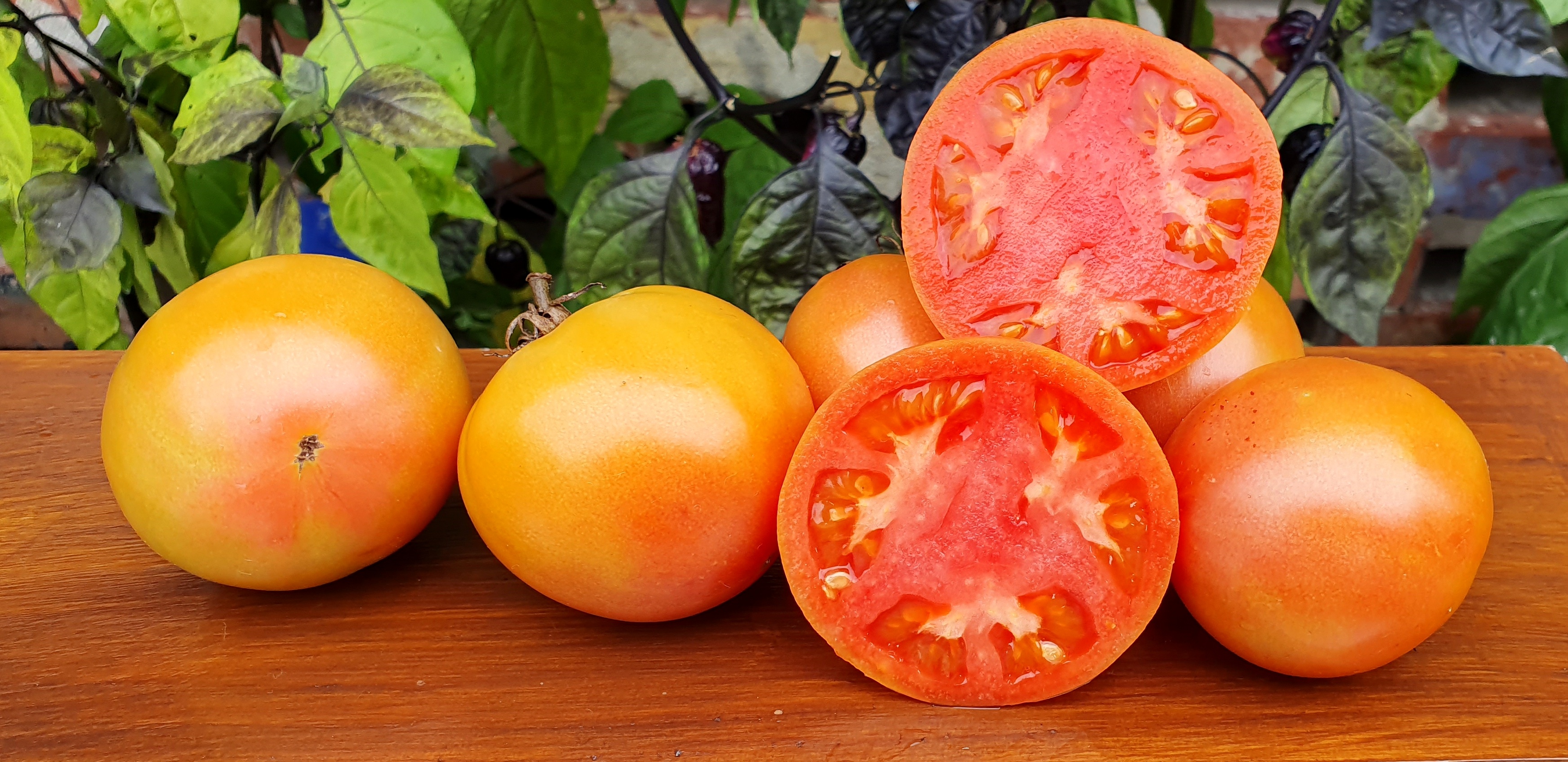 Long Keeper Tomato – Semi-determinate, Storage tomato, OP, Seed grown at Two Roads Farm
Similar to the tomato pictured in this photo from Reverend Morrow's Long Keeper from Croatian Seeds. We got these plants from Jane Fawkes on Denman. Pick these in October before the first frost and store in a cold store. Eat as they turn yellow and blush red. Best cooked. We have had tomatoes in February!
PEPPER VARIETIES AVAILABLE:
Lunchbox – Mini Sweet Bell Pepper, F1
Please note: This is a "lucky dip"; these seeds come mixed, so we don't know which colour pepper each plant will produce.
From Johnny's Seeds: These beautiful, mini-sized peppers are remarkably sweet and flavorful. They are delicious sautéed, as an addition to salads and, of course, perfect for a healthy snack. All three varieties have tall, strong plants that yield well for snack-type peppers.
Carmen – Long Italian Sweet Pepper, F1 organic
From Johnny's Seeds: Best-tasting Italian frying pepper. A high-performing rendition of the classic Corno di Toro (or "Bull's Horn") pepper popular in Italy. Early, adaptable, and notably sweet (especially when fully red-ripe) with a shapely tapered silhouette. Begins green, then deepens to a beautiful carmine at maturity. Excellent roasted, grilled, and in salads.
This pepper is a favourite at Two Roads for it's delicious flavour.
Escamillo – Long Italian Sweet Pepper, F1 organic
From Johnny's Seeds: Delicious yellow Italian frying pepper. The golden-yellow counterpart to lovely 'Carmen' and a refined take on the popular Corno di Toro (or "Bull's Horn") pepper class. Bred by Johnny's and named for Carmen's love interest in the French opera: the bullfighter Escamillo. Intoxicating sweetness any way it is prepared, but traditionally used for frying. Broad-shouldered with an attractive taper. Fruits avg. 6″ long x 2-2 1/2″ wide. AAS winner.
Another Two Roads favourite.
Red Ember Cayenne Pepper – Organic F1
From Johnny's Seeds: Tremendous flavor on first bite, with warm heat that lingers. Thick enough for a bit of crunch when eaten fresh, but thin enough to dry easily. Just enough heat to satisfy "pepper heads" — who can eat the peppers whole — but mild enough to slice thinly onto a salad. Makes excellent powder, flakes, and hot sauce. Also nice fried or in stir fries. Matures early. High-yielding plants. Fruits avg. 4–4 1/2″ long. Bred by Johnny's breeder Janika Eckert. AAS Winner.
Adaptive Early Thai Chili – Organic OP
From Adaptive Seeds: In 2003 we had our first experience working on a farm in Willow Creek, California. That year Andrew saved his first seeds, too: an heirloom tomato, and a Thai pepper. Now, 17 years later, the legacy of that first saved seed lives on in the Adaptive Early Thai pepper. We've been growing out this seed ever since, sometimes crossing in new Thai types, slowly creating an early maturing Thai pepper. There is some variation in this population, but it centers very strongly on a Thai pepper theme. Some plants hold fruit upwards, toward the sky, and others hang fruit down. The 2-3″ long, slender, pointy peppers are very hot and are perfect in nam phrik, the hot pepper condiment found on every Thai table. When compared to commercial Thai pepper varieties, Adaptive Early Thai plants are a bit smaller in stature, fruit is a bit larger and nearly every one of them ripens by frost.
EGGPLANT:
Traviata or Galine (lucky dip – these plants just got labeled "eggplant"), Purple bell type, F1
From Johnny's Seeds. Purple bell eggplants. Both tasty and reliable producers.